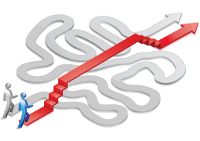 Developing new ideas
New ideas keep a business growing. Even when you are not short of ideas it can take time to analyse the strengths of each one and set your priorities.
How I can help you clarify your ideas
Discuss how to take your business ideas forward. Put time aside to use me as a sounding board to discuss the potential of your ideas. My coaching is positive and confidential. Working with someone outside the business, you need never worry that customers or colleagues will think that if you explore new ideas you are unsure of your direction.
Challenge the logic to tease out any weaknesses. It can be invaluable to have someone act as a devil's advocate – having your success in mind whilst considering the challenges in a new project. I investigate how to make an idea successful, not give you a list of what won't work.
Run creative and ideas workshops for you or your team. A well-run workshop will ensure that every idea gets a fair discussion, and none are dismissed because someone 'doesn't know how we work' or 'we tried that several years ago'.
As an external facilitator I will ensure that I know enough about your aims to note what is relevant, yet remain open-minded enough to encourage creative thinking.
Consider working with me or contact me now to take the next step towards getting the results that you want.